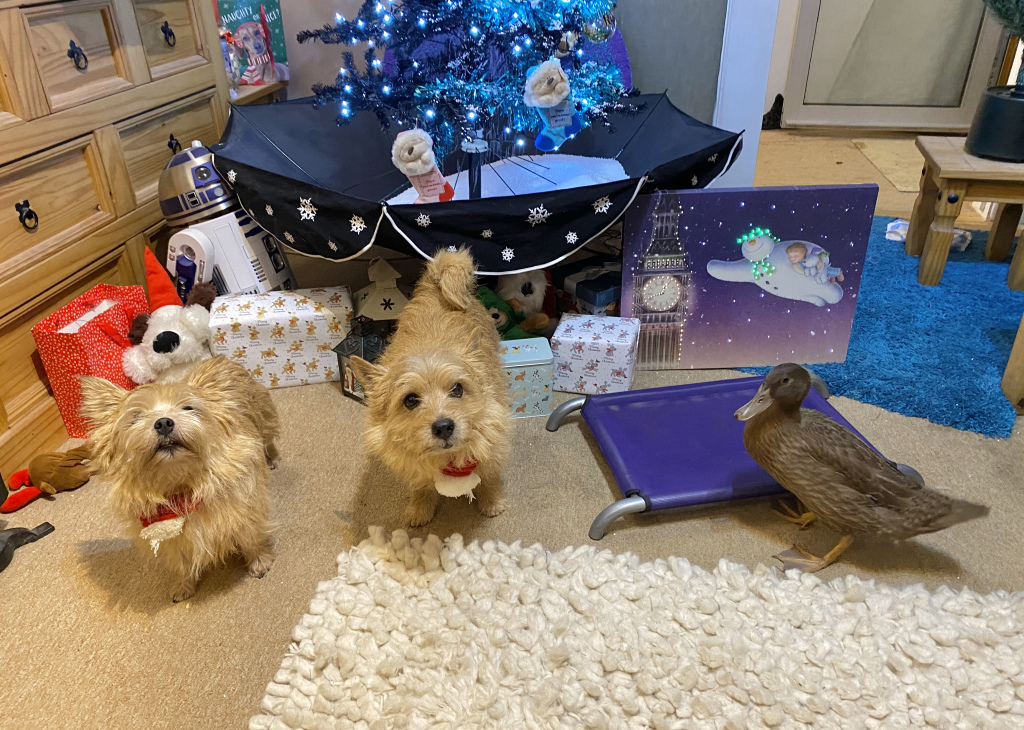 Merlin, Ripley and Echo helped me film some top tips to help protect pets while we decorate our Christmas trees as part of the 'How to Decorate your Christmas Tree' programme on Ch5. Sadly the pet section didn't run but I still have my advice to help us protect our pets, so here are my top tips for Pet Safety when Decorating your Christmas Tree!
Tip 1 – Consider where your pets can reach and if decorations would be less attractive to animals slightly higher up the tree – baubles, tinsel etc hanging on the lower branches can be very tempting to try and grab!
 
Tip 2 – Real tree or fake? Real trees look amazing but bear in mind pine needles can and do drop – if dogs walk over the needles they can become embedded in the paws, cats cat get them caught in fur or swallow them during cleaning etc. We have a fake tree indoors and a real one outside!:-)
 Tip 3 – Tinsel on the Tree looks pretty and there are lots of different types. Some tinsel sheds easily, which can be swallowed and potentially cause choking issues to pet birds, dogs, cats etc. Other tinsel has special festive shapes attached along it which can be fun for puppies to try and grab. The thicker tinsel can be more robust as can tinsel designed for outdoor trees and less chance of it break off if your pet gets hold of it.
 Tip 4 – Chocolate decorations are often included in the tradition but do remember chocolate can be highly toxic to animals. If you do have tree decorations that are food based ensure they are right near the top of the tree and secure so they won't fall off. This also includes home made baked tree decorations! If you have advent calendars with sweets inside keep them displayed off the floor also!!
 Tip 5 – Christmas presents for your pets, for family that contain food items etc should ideally be off the floor. You could have a table next to the tree and place presents up there, or even have a shorter tree that is on a table with present underneath but off the floor. Or keep them completely out of the way. Christmas foods such as mince pies, Yule log etc should also be stored out of reach of your pets to prevent them becoming unwell.
 Tip 6 – If you're like me and love getting involved with the decorations you'll find tinsel all over the floor, baubles across the sofa etc!! Be careful when your pets are about as they can easily pick up a glass or plastic bauble and play with it, resulting in it splintering, or steal some tinsel and shred it and swallow half of a length! It can be best to pop your pet out of the room while you're decorating or have the decorations in a box or large gift bag to keep everything safe!
I love Christmas and involving our pets – Dogs, Chickens and this year Ducks and Quail too! But they don't always mix well with Christmas activities so a little planning ahead can help keep everyone safe and happy!
Stay safe and enjoy your pets at Christmas
Please share to anyone with a pet to help protect animals x