We have Certified Tricks Instructors from Do More With Your Dog and provide Tricks Training within our classes as well as in 1-2-1 training, Tricks Workshops and in Joe's Facebook Trick Class, Cassimas Maximus!

Tricks Training opens up a world of fun and adventure for our dogs with various styles of tricks to suit every breed, age and training level of dogs and several levels of training to work through.
For details of the next course see the Training Dates page


Our last one off In-Person Tricks Training Session ran on Saturday 29th January 2022 – "Tricksters in Training" was a combination of New Tricks, progressing some popular tricks further and fun training games too! Very limited space due to props and social distancing – booking was essential. We will be running more sessions from May 2022 onwards!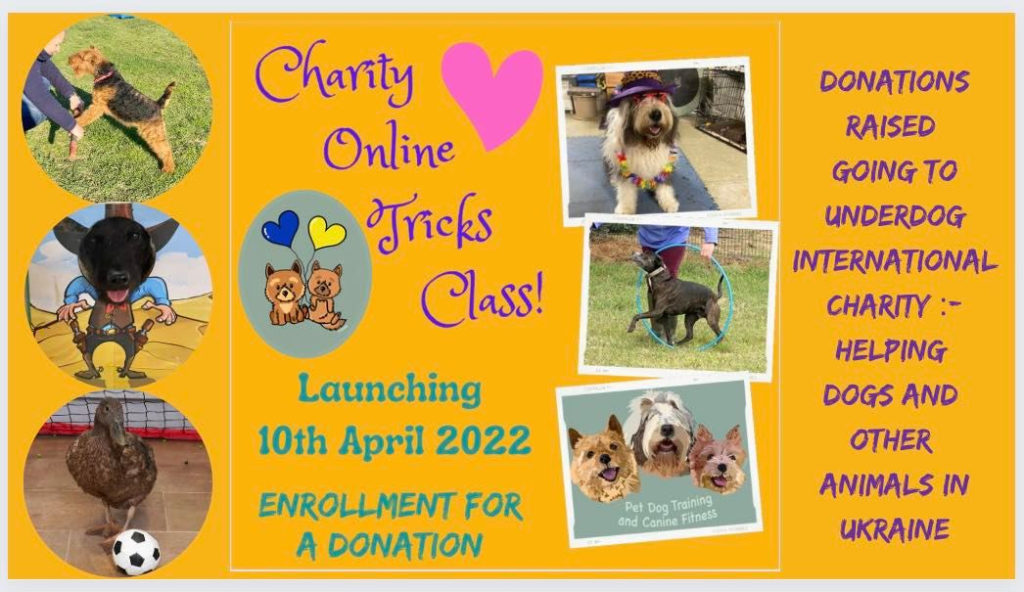 If you are looking to work on Tricks with your dog how about joining us in our Online Tricks Masterclass which has been created to raise donations for charity!!

We are so pleased to be running a brand new online Tricks Masterclass which launched 10th April 2022 and will be staying open for at least the next few weeks! It is to help raise donations towards Underdog International who do amazing work already with Dogs and Children but currently also have team members in Ukraine helping Dogs and People in need.

For more information and to enrol take a look at the Teachable Page:
https://dog-training-for-essex-suffolk.teachable.com/admin-app/courses/1737581/information

To donate to Underdog International and their current work in Ukraine our Just Giving page is here:
https://www.justgiving.com/fundraising/Tricks-for-Dogs?utm_campaign=lc_frp_share_transaction_transactional_–_page_launched_–_charity&utm_content=22416de1-75bb-4341-b142-392937b064a1&utm_medium=email&utm_source=postoffice&utm_term=1649617520603

The Tricks Masterclass has tips for training with our dogs, gaining focus, tutorials on many Foundation Tricks, progressing those Tricks, more Advanced Tricks plus more! No set fee for the Masterclass – just a donation to Underdogs International and that donation should only be what you can comfortably afford to give!

If you have questions just pop us a message:
Text / What's App: 07809 117912
Email: joe@dogtrainingessex-suffolk.co.uk