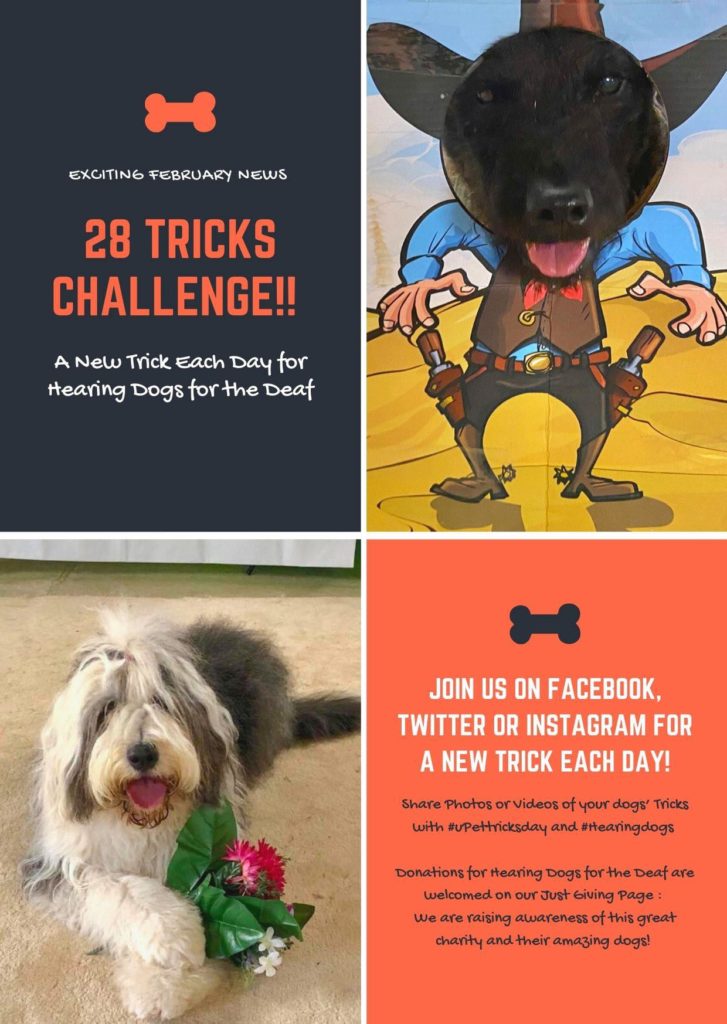 Throughout February 2021 we are sharing a new trick tutorial on our social media accounts every single day!! This is to help raise awareness for the excellent work Hearing Dogs for Deaf People does and they have created a February Challenge – the criteria is that we need to include '28' somehow so we have gone for 28 Tricks!!

Starting later this afternoon we will be sharing our first Tricks Tutorial for you to try with your dog and many of the tricks will have an advanced version as well as foundation so more dogs can take part. Every trick is aimed at new dogs learning and will be suitable for puppies, adult dogs and senior dogs.

So grab some small treats, a non slip floor, and your dog and let's get started on some fun Tricks!!

More information is on our Facebook Event Page:
https://www.facebook.com/events/327530105235712/?acontext=%7B%22action_history%22%3A[%7B%22surface%22%3A%22page%22%2C%22mechanism%22%3A%22page_admin_bar%22%2C%22extra_data%22%3A%22%7B%5C%22page_id%5C%22%3A295002648260%7D%22%7D%2C%7B%22surface%22%3A%22events_admin_tool%22%2C%22mechanism%22%3A%22recommended_actions%22%2C%22extra_data%22%3A%22[]%22%7D]%2C%22has_source%22%3Atrue%7D

And we will also be posting to our Instagram and Twitter feeds:
IG: www.instagram.com/cassntay
Twitter: www.twitter.com/cassntay

If you don't have any of these forms of social media but want to join in let us know and we will see what we can do! You can text or what's app us on 07809 117912.

And the best part? We REALLY want to see how your dog's are getting on! So whether they are learning a trick or have perfected it do share a photo or video with us! If you post on your own Social Media use the hashtags #dogtricksday and #hearingdogs so we can see how they are doing, or you can post on our Dog Training Page under the video the trick each day!! There might even be prizes for dogs who take part each day! Taking part can be hitting 'love' on the Facebook post, commenting on a trick being your favourite, posting a video or tagging us on your own socials! Even messaging us for the new trick or letting us know how your dog is getting on! We will be keeping an eye out!!